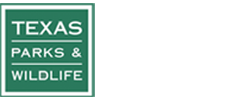 Seasons and Additional Information
2018-2019 Season Dates:
| | | |
| --- | --- | --- |
| New Mexico Pronghorn Antelope | 3 days (2x1) | Aug 25 - Sept 9 2018 |
| Texas Mule Deer | 4 days (2x1) | Nov 3 2018 - Jan 27 2019 |
| Texas Mgt Mule Deer | 3 days (2x1) | Nov 3 2018 - Jan 27 2019 |
| Sonora Mexico Mule Deer | 6 days (1x1) | Nov 3 2018 - Jan 27 2019 |
| Free Range Aoudad Sheep | 4 days (2x1) | Sept 2018 - April 2019 |
| Free Range Axis Deer | 3 days (2x1) | May - Oct 2019 |
| Free Ranger Scimitar Oryx | 3 days (2x1) | Year-Round |
| Javelina | 2 days (2x1) | Year-Round |
| Exotics | unlimited days @daily rate | Year-Round |
| Rio Grande Turkey | 3 days (2x1) | March 16 - May 1 2019 |
| Scaled Quail  | 2 days min | Oct 27 2018 - Feb 24 2019 |
| Hog/Predator | 3 days | Oct 2018 - March 2019 |
"The bitterness of poor quality remains long after the sweetness of a low price is forgotten".
Pricing is available via email at hunter@desertsafaris.com. Or by calling (210)-264-1745 or (210)-764-1827. Prices are subject to change without notice. Usually the quickest way to contact us is by telephone. We appreciate your interest in our operation and look forward to providing you with the highest hunting experience available.
SERVICES INCLUDED IN HUNTING PACKAGE:
Meals & comfortable lodging on ranch or in motel
Transportation during the hunt in 4-wheel drive jeeps or pickups
Professional Hunting Guide Service
Field dress, caping, skinning, and quarter of your hunt trophy
Arrangements For Taxidermist
NOT INCLUDED IN HUNTING PACKAGE:
Desert Safaris doesn't provide regular hunting equipment, alcohol, personal effects nor firearms. (Although we are able to supply ammo and firearms with advanced notice.)
If a client has any special dietary needs or other requests please notify us in advance that way we may try to accommodate you
Hunting Licenses
Airport pickup/delivery
Gratuities:  Tips are customary for guides, cook and additional staff if services were desirable and to expectations
Expediting of trophies to your designated location
Taxidermy
Meat processing
HUNT and CAMP POLICIES:
Desert Safaris a wounded animal policy on our hunting excursions. Draw blood, bone or hair that trophy animal is deemed harvested and in full payment.
For those hunters who are driving, they should schedule their arrival no sooner than 2pm the day before the hunt begins, 3-4pm is ideal.
Everyone's safety and well being is Desert Safaris #1 priority, period. Consumption of alcoholic beverages is not allowed while hunting and we reserve the right to not allow a client to hunt if not of sound mind and being. After the day hunt is over and the firearms are stored, feel free to have a drink and enjoy yourself.
Trophy fees for additional animals (if applicable) will be applied at the conclusion of the hunt and are to be paid before departure from camp and antlers, horns and/or capes released to client.
BOOKING INFORMATION FOR YOUR HUNT:
All Desert Safaris hunts are 1st come, 1st served basis. Your Hunt dates will be held no longer than 10 days without receipt of your deposit.
Deposit is not refundable unless another hunter can replace the date at full prices. It's not up to Desert Safaris to find a replacement hunter if a cancellation is requested.
Prior to your arrival for hunt, an equipment list and driving directions to hunt location will be provided via U.S. Mail or email, whichever is preferred.
DEPOSITS:
Your reservation will be confirmed with receipt of a non-refundable deposit of 50% of the cost of your particular hunt. Upon receipt of deposit, a letter of confirmation and acknowledgement of dates will be sent to you.
Deposits are non-transferable and may not be rolled over into a following year unless prior arrangements have been made in writing.
PAYMENTS:
Clients will be invoiced for the remaining balance 60 days prior to hunt and final balance should be paid in full no later than 30 days prior to your scheduled trip. If balances are not paid 30 days prior to trip, deposit will be forfeited and trip cancelled.
LICENSE REQUIREMENTS AND FEES:
Residents of Texas:
Type 101 License: $23.00 - hunt all legal animal or birds.
Non- Texas Resident:
Type 105 License: $315.00 hunt all legal animal or birds.
Type 157: $48.00 hunting of exotic animals and legal game birds excluding turkey, Javelina and non-game animals.
All hunters in Texas with birth dates on or after 09/02/1971 must have completed Hunter Education courses.
Who is Required to take Texas Hunter Education?
Every hunter (including out-of-state hunters) born on or after Sept. 2, 1971, must successfully complete a Hunter Education Training Course. Minimum age of certification is 9 years of age.
If you were born on or after September 2, 1971 and you are:
Under 9 years of age, you must me accompanied*
Age 9 through 16, you must successfully complete a Hunter Education Course, or you must be accompanied*.
Age 17 and over, you must successfully complete a Hunter Education Course; or purchase a "Hunter Education Deferral" and you must be accompanied*.
*Accompanied means: By a person who is at least 17 years of age, who is licensed to hunt in Texas, who has passed Hunter Education or is exempt (born before Sept. 2, 1971), and you must be within normal voice control. Proof of certification or deferral is required to be on your person while hunting. Note: Certification is not required to purchase a hunting license.
TEXAS LICENSES:
You may purchase your Texas hunting licenses over the phone prior to your hunt. You will need your driver's license, social security number and credit card.
Non-Resident Licenses:
If you are hunting Aoudad Sheep and or Exotics with us you will need the non-resident special hunting license (type 157). The cost is $48.00
If you are booked to hunt Mule Deer, Pronghorn or other Texas native big game animals you will need to purchase the (type 105) general non-resident license. The cost is $315.00
You may contact Texas Parks & Wildlife for purchase by telephone 1.800.895.4248 Business hours are M-F 9am-6pm
Orders may be made on line at Texas Parks & Wildlife License Please allow ample time for arrival US mail. Keep this in mind when ordering online that this may take 10-14 days.
NEW MEXICO LICENSE REQUIREMENTS AND FEES:
Private Land License Fees
https://www.wildlife.state.nm.us/publications/documents/rib/2012/sections/pronghorn_antelope.pdf
Resident $70 Nonresident $299

Private Land Hunts
Hunting opportunities on private lands for Pronghorn Antelope go through the Antelope Private Lands Use System (A-PLUS) for qualified landowners that sign hunt agreements with the New Mexico Wildlife Department. All licenses and authorizations issued will be on a per Ranch basis and valid while within authorized ranch boundaries of the approved ranch.
Obtaining a Private Land License
https://www.wildlife.state.nm.us/publications/documents/rib/2012/sections/pronghorn_antelope.pdf
CANCELLATION BY DESERT SAFARIS:
Should Desert Safaris be forced to cancel your reservation, we will do our best to provide you with a reasonable alternative. If both parties can't agree on a acceptable replacment date will of course reimburse the total dollar amount collected to date. If client elects to cancel hunt, there will be a 30 percent surcharge deducted against the deposited collected.
POSTPONEMENT POLICY:
Should you postpone your hunt trip to the following year these penalties are applicable:
10% penalty of hunt cost for a postponement made 60 days prior to departure.
1/3 penalty of hunt cost for a postponement made less than 60 days prior to departure. There will be a surcharge for credit card charges which varies depending on card. Please call for percentage rate on amount.
ADDITIONAL INFORMATION:
Season dates change annually so Call for latest Updates
Waivers and Liability Releases will be signed before hunters enter the field
Observer fees are ($200.00) per person per day
1 on 1 Guide fee ($350.00) per person per day
Clients arriving by commercial airline will fly to El Paso, Midland/Odessa, San Antonio, TX, or Hermosillo, Mexico depending upon trip.
Any game wounded and not retrieved will be considered harvested and paid in full.
Gratuities'
Gratuities' for both guide and cook are customary. Amounts normally vary, but herein is a general guideline.
Hunts Price
Amount of Gratuity Per Hunter
Up to $1,500
$150-$225 (Guides) - $40-$75 (Cooks)
$1,500 - $3,000
$175-$300 (Guides) - $40-$75 (Cooks)
$3,000 - $5,000
$300-$500 (Guides) - $60-$100 (Cooks)
$5,000+
7% - 10% (Guides) - $100+ (Cooks)
*Gratuities recommendations only.
Shipping of Trophies
Should Desert Safaris or employees have to ship cape and antlers to client's requested destination, client will be obligated for a service charge of crating/handling of $250.00 per animal in addition to freight charges.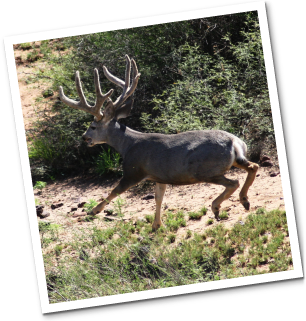 "When we talk about where we want to hunt, my family regulary request West Texas with Desert Safaris."
~Thomas J. Cunningham-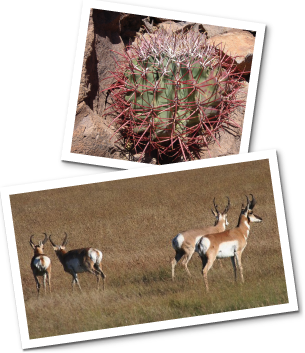 "I have known Hunter and his wife for more than 7 years. He is a man of fine character and unquestioned integrity. I have heard Craig Boddington recommend him on his television shows, but I know the man personally and I could not recommend any outfitter higher."
~Terrell McCombs-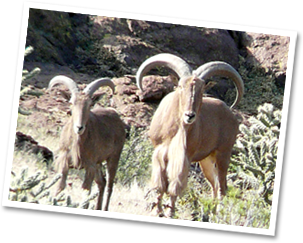 "Thanks to you and your staff we had a great time in west TX! It amazed me at how organized your operation was and the top notch caliber of people you have working for you, now I know why Jenny had such a good time last year. Jenny and I both understand how hard it is to make things all work together during hunting season. You and everyone that works for you obviously have the outfitting business figured out."
~Robert & Jenny Sanders-