These are just a few questions we are asked frequently and if there is something in particular you are inquisitive about please contact us and we will be glad answer any questions you might have first hand.
What equipment do I need for my particular hunt?
We will provide you with a reasonable list of items to bring for your trip that has worked over the years and should help in making your trip smoother.
Do I need a hunting license and do you provide them?
We do not sell hunting licenses and yes you will need one regardless of what particular trip you choose. Please call and we can give you costs and where to obtain them prior to arrival. All areas we hunt do require a license and clients do get checked by game officials often.
Do you provide a firearm for my use?
We do not include firearms in the cost of your hunt, yet we have rentals available if prior notification is made.
How many others hunters will be in camp during my stay?
Depending on species hunted and availability you may be the only ones, or there may be up to 10 other clients in camp. If you request a camp solely for yourself or group please let us know and we will do our best to try to accommodate your needs.
May I bring an observer or my spouse along?
Yes, we welcome all non-hunters and a daily observer rate will be applicable at $200.00 per day.
What will the temperatures or weather be like on my trip?
Since we are hunting so many areas during different seasons of the year, please call and we will be glad to give you typical weather information for your trip.
If I elect to leave my trophy in camp can you take it to a taxidermist for me?
We use one particular studio we have used for years and will be more than glad to take it to their shop at no charge. If we have to expedite it to your destination a surcharge will apply for handling and shipping.
May I add on additional animal species to my hunt or does Desert Safaris offer combo-hunts?
Additional animals may be harvested if in-season and applicable game laws apply, or we can do combination hunts at a discounted rate. Call us for availability and what may be combined with the species you are wanting to harvest.
How much acreage do we have to hunt on for my trip?
It varies depending on species hunted, although we currently lease over 500,000 acres of private land exclusively for our operation.
Is it guaranteed that I will take an animal on my hunt?
All of our ranches are 100% free chase hunts with no game enclosures to ensure a more quality experience. We have extremely high success rates on all trips and will do our best within the limits of the law to obtain your trophy.
If I pay a deposit is it refundable if I cancel for any reason?
Deposits are non-refundable, yet they may be transferred to another person of your choice if you are unable to make the trip.
Will Desert Safaris provide me with past references?
Please give us a call and per your request we will provide any references that might be helpful in making your decision to hunt with us.
What caliber firearm do I need to bring and what should it be sighted in for?
We recommend a good flat shooting caliber that is sighted in 2 inches high at 100 yards. Most calibers in the .270, 30.06, 7mm Mag and .300 Mag range are sufficient for the game you will be hunting. Check your sight pattern prior to arrival and be proficient to shooting up to 300 yards.
How far in advance do I need to reserve the dates for my trip?
We book all clients on a first-come, first-serve basis, and your deposit will secure the dates selected. We will hold your dates no more than 10 days without a paid deposit unless other arrangements have been made in advance.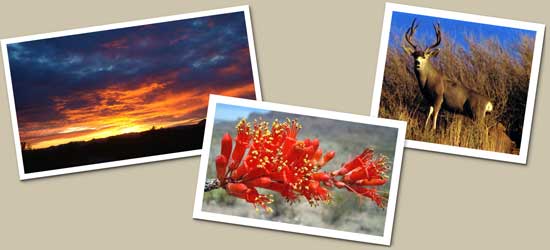 "We came to the ranch as
Hunter's clients...we left the ranch as good friends!"
~Chris Taft~
"The quality and quantity of game is excellent, and Hunter's
operation is second to none."
~Thomas J. Cunningham~